Hey there!! I am linking up with "
The Good Life
" for a Five on Friday post. I have seen many bloggers do these posts but haven't quite gotten into it. Then my dear friend
Meagan
started doing these posts and I just had to join in this week!!
::ONE::
I finally got some Fall decorations up around the house. I love fall and its such a nice change to have a season to decorate my house with. I find a struggle within myself about decorating for Halloween. I love all my halloween decorations and having them up but I always find it difficult to find a good time to put them out, I don't think they should be out longer than my Christmas Decorations so I think that the first weekend of October is a good date. I will do a Fall Decor Home Tour here pretty soon.
::TWO::
Ellie had her 4 month appointment and was a stellar patient. It only took her a few minutes to calm down after her shots and her Doctor said she is one of the cutest babies!! I can't help but agree. Ellie also got her first fever this week and has some serious nose congestion.
::THREE::
Fall is in the air and we started up Soup Sunday's again in our house. It was something that I thought I would try all year but it just gets too hot in the summer, and to be honest soup gets boring after a while. This week I made Cream of Carrot soup again. You can find the recipe
here
and it is delish!
::FOUR::
I posted about our
adoption finalization
and finally got it online on the blog. The official date is September 6th. We are so happy that Ellie is officially ours and love seeing our names on a birth certificate.
::FIVE::
It's finally Friday and we are looking forward to a relaxing weekend and recovering since all three of us are feeling under the weather. We also have started doing some food prep on the weekends and it makes it pretty nice for lunches and meals/snacks throughout the week. Why have I not done that before??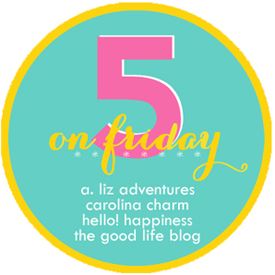 ♥ Ashley