Hey ladies!! I am so excited to have my first guest blogger here today to talk about Life with a Toddler for my "Toddler Tuesday" Series!! I have been reading Natalie's blog for quite sometime and I am just in love with her sweet little girl Blair. She is just adorable. Not only that but Natalie has been doing some updating in her home and has the BEST kitchen makeover ever!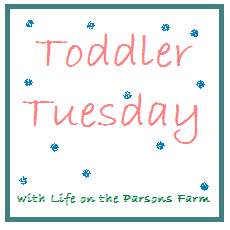 Hi babes! My name is Natalie from
Nat Your Average Girl
and I'm here to talk about life with my toddler, Blair (2). A big thank you to Ashley for having me kick off her "toddler series!"
Life with a toddler is a whirlwind. Amazing, yes. And frustrating. The words
messy
and
fun
come to mind. Along with
exhausting
and
joyful
. It's hard because they can elicit
so
many emotions inside of you, both good and bad. However, at the end of the day when she's all snug and peaceful in her bed I find myself saying what a "sweet little nugget" she is. And she is! But oh those tantrums...
crying because she thought Daddy was going to say she couldn't go on a walk ( He didn't).
We are 100% in the "terrible twos" Although it's really not
that
terrible. I actually wouldn't classify what she does as "tantrums" but more so "melt downs." She loses her noodle over the
stupidest
(I can't use that word anymore with her parroting skills) silliest stuff! She'll cry if her baby is dressed. She'll cry if her baby is naked. She'll cry if I offer her water and if I don't. It's like living with Dr. Jekyll and Mr. Hyde.
happy to be taking her naked baby on a walk (this time!)
And with two women in the house...poor Matt.
Typically our days are pleasant. And to be honest I appreciate every moment I have with her. The good, the bad, and the ugly. She can be annoying (can I say that?!) but she's my girl and I know it's a blessing that I get to stay home with her and have her in my life. So here's to tantrums and snuggles. You can't have one without the other! ;)
Thank you so much Natalie for giving us a peek into the Toddler Years!!
Remember if you are interested in joining this series just shoot me an email and I can get you on the calendar!