Welcome back for another "Toddler Tuesday"!! One of the best things about this series is that I have a chance to learn from those mama's that have gone before me. Today I have the lovely Keri here and she is totally fabulous. She is the mom of 3, has a ton of wisdom and has some great tips for teaching language/communication to our littles!!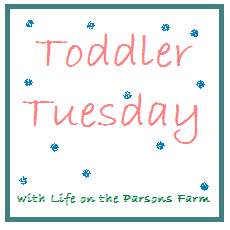 Hello! I am so thankful to Ashley for letting me share today. My name is Keri from
Living In This Season.
I am a mom of 3 little ones, Jack who is 5, Nate who is 2 1/2, and Claire who is about 2 months old now. We live in Charleston, South Carolina where my husband is a middle school teacher and I am a stay-at-home mom who is in my first year of blogging. I love being able to share about the different seasons of life and also lots of activities for kids, DIY projects, and organization tips. I hope you will
stop by
and say hi!
I know how
challenging
the toddler years can be. Some days it can be downright exhausting trying to figure out what exactly your little one may want. As a little one is learning to speak, there can be more tantrums as they get frustrated over not knowing what to say or how to say it. Our 2 year old actually has a speech therapist who works with him weekly and we have been learning a lot about early intervention and teaching your little one. Today, I am going to share some of these simple, fun activities we do with Nate to promote language development.
- Mr. Potato Head:
One of his favorite activities is to play with Mr. Potato Head. We get out the potatoes and let him pick which one he wants. As we play we have Nate ask for the items he needs to complete his potato. It is simple just saying eyes, ears, nose. Sometimes, we have to encourage and will say, "Do you need eyes?" If there are multiples of a certain item, he will pick between the two.
- Letter Stamps:
Stamps are always so fun and as he stamps a letter we announce what letter it is and the sound. One thing I am learning is that it is never too early to start talking about letters.
- Animals Play:
It is always fun pulling out some of the toy animals and working on animal noises!
- Reading:
Read, read, read with your little one. This is one of the best ways to help your little ones with words.
- Puzzles:
We love doing puzzles together. Whether it is one with bugs, cars, or animals it is always fun to say the word of the picture as we put the puzzle together.
- Talk About Everything:
During the day, as we do different things I will narrate what we are doing (yes sometimes it seems like I am talking to myself!). As I change his diaper, make meals, whatever we are doing I just share what is going on. This good too for when you are playing outside or go on a walk- talk about the things you see and explore the world together :)
These are just a few ideas of ways to work on language with your little one and to have fun! Even if your little one is a talking machine, you can have fun with these activities. This
August
I will be starting
Tot School
with my middle child and I will be sharing about the activities we do on a weekly basis. Make sure and
stop by
to see some fun ideas and to share some of your own!
Thanks again for letting me share some over here!
I just love her tips and ideas for helping with teaching language and words with our little ones. I for one really need to be more mindful of narrating our days together!! Thank you Keri for such a great post!!
♥ Ashley
and remember if you are interested in contributing a post (or two) to this fun series please send me an email or comment on this post and I will get you on the schedule!!