I can't believe that it is Tuesday again already!!! Natasha is here today for Toddler Tuesday and I am so happy to have her guest post. She has the most adorable daughters and I have been reading her blog for quite a while now! She has some great tips for us SAHMs (I get to say that now until I find a job!) that will help us from getting cabin fever!!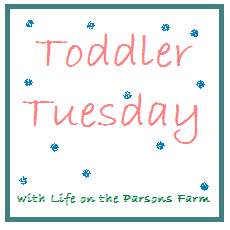 Hello friends! First of all, a brief introduction: I am Natasha and I blog over at
Hello! Happiness
. I am a Nashville native, lover of all things southern, owner of
Sugar Bit
baby and children's boutique, wife to Jeff, and mother to two darling girls, Caroline
(2.5 years)
and Carson
(15 months)
--you could say I like to juggle a full circus show! I am here joining Ashley today for Toddler Tuesday and talking about the things I do to keep my two toddlers occupied.
Get Out of the House.
It doesn't have to be anything fancy, but get out of the house and do stuff together as a family...our favorite weekends are spent with quick trips to the local zoo, afternoons at the park
(swinging, slides, and kicking the soccer ball rank high on my girls' list),
visits to the ice cream shoppe, and just making sure we're getting out and about together. It can be rough at the house and a change of scenery does all of us some good!
Check Out Local Happenings.
There are so many resources online to keep track of things to do in your area in the fall...we are always venturing to the pumpkin patch, corn maze, street festivals, and anything else we spot that jumps out as a fun adventure. Take advantage of all sorts of local events (lots of them free or at a discounted rate) and savor these special times together!
Take Them to Kid-Friendly Places.
Sometimes I feel it's hard to take my kids places that are baby and child friendly, and yes, it takes some investigating, but they are out there...the library for story time, the local indoor blowup center, the bowling alley- it can totally be done and these are the places where if someone has a meltdown, you get the looks from other parents who have been there, done that and can totally relate.
Live Adventurously.
Don't look back five years from now and say "I wish I would've done this with my children"...get out there and do it now. Pack the car up and drive away for a weekend getaway, go to the apple orchard and pick apples to make a pie (and big mess) at home, and by all means, get outside and get dirty! It's OK...these are the memories you'll remember most, and your kids will know their parents made an effort to give them a fun-filled childhood!
Isn't she just the best?! Thank you Natasha I love these ideas and will be putting them into action here at home!
Be sure to check out my post from

last week

for your chance to win a pair of Freshly Picked moccs!!
Do you like this series as much as I do? What to contribute a guest post with some of your Toddler related stories or advice? I would LOVE to have you! Just send me an email or leave a comment and I will get you on the calendar!!