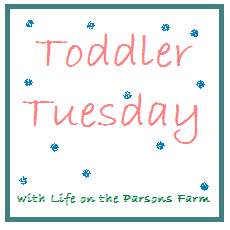 Hello Life on the Parsons Farm
readers! I am so happy to be here today introducing myself to you all and thank you to Ashley for having me! My name is Elizabeth and I blog over at
Chasin' Mason
, a blog about the adventures in motherhood and daily life with a toddler. I am a true California girl. I was born and raised in Northern California, in the San Francisco Bay Area and moved down to Southern California after I graduated college. Shortly after I moved, I met my husband. We worked together... and I was his boss. Oops! We began dating secretly since we weren't technically supposed to be dating since I was his manager. We got engaged in September 2009 at Angels Stadium
and were married in November 2010.
Our sweet boy, Mason, was born in July 2012 (he just turned two and is an official toddler now!) and is the light of our lives.
Today I wanted to share a topic with you that all moms can relate to : feeding your toddler.



I hate to admit it, but I must have done something right at some point because I was blessed with a toddler who is a good eater. Maybe I am being rewarded for all of the time we spent when Mason was a baby buying liquid gold (aka Similac Alimentum) to feed him. He had such a bad tummy when he was a baby, I'm surprised he's so easy going with food now (knock on wood, please don't jinx it!). He loves fruits (strawberries, raspberries, watermelon, pineapple, blueberries, grapes, etc.) and loves vegetables (green beans, broccoli, etc).
Eating broccoli // Eating fruits and veggies // Trying corn on the cob for the first time.
Of course he doesn't love this stuff as much as he loves junk food, but he will eat it without any problem, so I still consider it a win.
Pulled down the can of Cheetos by himself and helped himself to some snacks.
Now, saying that, you might think I don't have any advice on the topic. Oh how wrong you are. I have lots. My good eater? Not so good at sitting still during dinner time to eat his food. When you can get him to actually put the food in his mouth, chew, and swallow... amazing. But getting him to sit there and focus on eating is the problem.
Creativity
is key.
Breakfast
Breakfast on a weekday is a challenge. Since both of us work full time, it doesn't leave much time in the mornings for breakfast. When I work at 11am, it provides for the most time for breakfast so I try to provide a well balanced meal of Cheerios/waffles/mini pancakes, some fruit, and some yogurt. But when I work at 8am or 7am, it leaves a lot less time for a full meal at home. This is where creativity comes into play.
Waffles with strawberries & blueberries and a yogurt // eggs with avocado
Eggs, strawberries, and hash browns (aka tator tots) // Cheerios, waffles, blueberries and yogurt
I've known Mason for a little over 24 months now. And if there's one thing that my son has taught me in those 24 months, it's that he is NOT a morning person. He may wake up early and trick you into thinking he's a morning person, but he is definitely not. Sometimes he is in a good mood when you go into his room to get him and sometimes he's not. Regardless of his mood, he's not a morning person.
The second you get downstairs with him, it's like he knows we are in the vicinity of the fridge and HE NEEDS FOOD. So, Seth and I (being smarter than the toddler and having learned from our prior mistakes), have learned that we NEED to have milk ready for Mason the second he gets downstairs. Literally, if you don't, meltdown central erupts immediately. And most recently this includes a full blown laying on the ground, pounding his hands on the ground, crying fit.
Terrible two's. Fun times.
So I usually hand him his milk immediately, sit him down at his table or on the couch, turn on the Disney channel and get some Cheerios ready for him. He sucks down the milk in 10 seconds flat and I re-fill it for him. I finish getting ready and put his waffle in a to go tupperware and we head out the door. I hand him one piece of waffle at a time while in the car and driving to daycare and he eats the whole thing.
My secret for getting Mason to eat breakfast on a weekday? Feed him in the car.
Lunch/Snacks
Lunch is actually the easiest meal for us to feed Mason. I feel like it is the meal he is most willing to sit still and eat while at home. While these are examples of what I make for him to lunch (and snacks) for daycare, he eats very similarly at home.
I try to stick to the basics, things I know he will like. Recently he's been really into tortilla chips/snap pea crunchies/pirates booty so I try to incorporate that somehow. He also really likes turkey and ham so that is usually his "main dish" with some edamame and olives accompanying it. For fruit, he's been on a grapes and blueberries kick though I do substitute strawberries, bananas, watermelon, or raspberries occasionally. He LOVES apple sauce, avocado, and a fig newton for dessert, so I include that as well. I'm not sure what time our daycare provider gives Mason each thing, but I do know that his containers come home empty every night.
For snacks at home, we usually offer Cheerios with blueberries or dried cranberries, gold fish, a pouch, some fruit, cheese and crackers, pirates booty, etc.
My secret to get Mason to eat lunch? Have someone who is not mommy or daddy feed him.
Seriously!
But seriously, I'd say the secret is to stick to something tried and true. Things you know they will like. And throw in a little something "bad" for them. Hey, why not? You made it all the way to noon without a meltdown, that's cause for celebration!
Dinner
Dinner is a whole other ball game. Sometimes Mason comes home from daycare famished and needing dinner RIGHT AWAY. Other nights he's fine waiting until whenever. Depending upon his mood when he gets home depends on if he will eat what we're eating or if I make something special for him.
If I make something special...
If he eats with us.
He used to eat in his high chair. Then we switched it up after we made him his own little table and let him eat there. The high chair provided challenges, but the table provides a whole new type of challenge. Before we switched the to the table, Mason thought it was funny to throw all his food off his tray on his high chair and on to the floor. All my hard work, all over the floor. The more we said no and told him not to...the more he did it. We tried to incorporate forks into the mix to distract him and to get him to try to pick up the food on his fork by himself. This worked sometimes but other times not. Sometimes I had to substitute my fork to
trick the toddler
. Whatever gets him to eat, I'm all for trying. That being said, most recently we've been using the booster seat and having him sit at the dining room table with us and that seems like the best option right now.
A couple weeks ago, Mason refused to sit in his chair at his table to eat dinner. He kept getting up to walk around and kept sitting in his Anywhere chair. So what did we do? We put the table in front of his Anywhere chair and he ate his dinner there.
And just last night? He refused to eat dinner until I sat there and picked up every single piece of food from his plate and put it in his mouth for him. Annoying for me? Sure. But he ate a whole plate of broccoli, chicken, cheese, and olives. Sometimes you just gotta do what you gotta do.
My secret for getting Mason to eat dinner? Be creative. For some reason, he will eat off of my plate, but not his. And sometimes we are having the EXACT same thing. But if it gets him to eat, he can eat mine and I will eat his. Or I let him use my fork to show him that he is a big boy using a "big kid fork". Or sometimes I will put his food on his/my fork and pretend to eat it. I explain how good it is and how I would love to eat it if he won't, and this usually prompts him to grab the fork out of my hand and put it in his mouth because he doesn't want me to eat his good food.
One thing Mason doesn't need help with?
Dessert...
...and drinking other people's drinks.
You leave your drink unattended and in Mason's world, it's fair game.
So while it is definitely one of the most challenging things to do as a parent, it is so important that the kids get the nutrition that they need. So, if you have to be creative, do it. If you have to do something you swore you would never do (like let your kids watch tv during dinner), do it. If you need to let your kid eat french fries and gold fish for dinner because he refuses to eat everything else, do it (and I've done it).
My advice on getting your kid to eat?
Creativity and patience.
And know it is just a phase.
It may not be in the "parent of the year" handbook, but it works for us, so we're sticking to it.
Wow! Thank you Elizabeth for the great tips and meal ideas! I know as Ellie is getting older and eating more of "our" food this is really helpful!
Do you like this series? Want to contribute a guest post? Send me an email or leave a comment and I will get you on the calendar!!