// o n e //
In just a few short days my baby girl is going to be a ONE year old!! how on earth did that happen? We have some plans to make it a special day and then her party in a couple of weeks!!
In honor of my sweet Ellie Faith turning one year old I have some goodness to offer you!! The sweet Tessa from

Sweet T Baby Boutique

on etsy is graciously offering a $20 shop credit to one of my lucky readers!! She makes the cutest headbands and hair accessories for the littles (and even bigs if you want!) I already have a big selection of her stuff and I just adore all of it!! To enter just check out the rafflecopter below to get your chances to win. She does not dissapoint and her packaging is to die for adorable!!
If you don't want to wait and see if you won she is offering a 15% coupon code for all Life on the Parsons Farm readers using code ELLIEISONE. This % off is good through the END of June. Tessa really is one of the kindest etsy shop owners I have come across, she has a love for Jesus, and I would just love for you to help support her shop!!
a Rafflecopter giveaway
// t h r e e //
Ellie's party is coming up and I am so excited for it. Like I mentioned before I made her invitations and just love how they turned out!!! I think that I ended up spending about $2 per invite thanks to some online coupons at Michaels in addition to my teacher discount.
Thomas printed the invites and then cut them to a 3x5, then I cut the floral paper to a 4x6. And that was the original vision but when I went back to Michaels to get envelopes I fell in love with the brown paper cards and envelopes package. So I glued the floral paper onto the brown paper cards and added gold polka dots with a stamp!
// f o u r //
I am working on making a banner for her birthday. I tried to make it fairly gender neutral and will put it together in such a way that we will be able to use it for years to come and for each of our birthdays. I am a total fan of polka dots and have been for a long time. So when I saw the gold polka dotted burlap on sale at JoAnns I just had to get it. It's been a project to put together but I am just loving how it's looking!!
// f i v e //
I hosted a bridal shower last Saturday for my soon to be SIL. It was a Breakfast at Tiffany's theme. I think it all went really well. Due to the theme I thought it would be fitting to have it be a brunch. So that meant te party would start at 11AM!! I had a lot to do with little time in the morning (since most of my parties start after 3pm).
I had a mimosa bar, coffee and tea stations as well. Then for the goodies we had a fruit platter, quiche, biscuits, cookies and cake.
We played some fun games and I also had an activity for a the guests. To ensure fun in their marriage I created a date jar and each guest got to write down a few of their favorite date ideas!
And the favors were sunglasses and pearl necklaces. It was so fun to plan and organize and I am so pleased that the bride to be enjoyed herself!!
Thanks to
April
,
Darci
,
Christina
and
Natasha
for putting together this fun link up!!! Now you go get your link on!!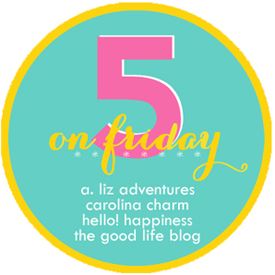 ♥ Ashley