Ladies. I cannot even explain how excited I am that this month is finally here!
I have so many projects that I am working on (or want to get started) I guess I just have a lot of motivation for some reason. I guess when it rains it pours - in a good way.
My heart is breaking for the sweet Fish family. They are the parents of the adorable Teddy Fish aka
Super Teddy
who was diagnosed with Menkes Disease back in November 2013. A while back we posted about #teamteddy to help spread awareness of this disease. Sadly he passed away on Monday just a short couple of weeks after his first birthday. I cannot imagine what his family is going through but I am praying for them.
During my
spring break
back in the beginning of April I had this great idea to do a quick makeover on our guest/Ellie's bathroom. It turned out to not be so quick but I am so happy to announce its
finally done
!
I am hosting a bridal shower tomorrow for my soon to be SIL. She is totally into the Audrey Hepburn look of "Breakfast at Tiffany's" so I had to go with that for the theme. I did a lot of DIY type stuff and can't wait to show y'all everything after the shower! I'm even having an opportunity to use my mom's silver! Here's some sneak peeks!
It's Ellie's birthday month and we have so much celebrating to do! Of course with her birthday coming you better bet your ass that I am doing all sorts of crafting for it. I couldn't find any invitations that looked like what I had envisioned in my head so I made them. I made a birthday banner as well - hoping it can be used from year to year. I liked doing it so much I'm thinking I might start selling them...what do you think?
I also thought it would be a good idea to makeover her high chair (nothing like a party to get your rear in gear!) for her birthday. I am about 1/3 of the way done with it and can't wait to show it off. I don't have a real theme aside from colors for her birthday: Coral, Mint and Gold (with some burlap thrown in) but I am taking a page from
Erinn
and having bubbles as the party favor for the littles (I have been saving up baby food jars!)
And FINALLY some announcements for this here blog! I am in the works of hosting a blog series with guest bloggers that is all about life with toddlers. I am super excited about it and already have two months of posts scheduled up. I think we can learn so much about raising kids from other moms and I am so excited to share their wisdom with you! Be looking for my series "Toddler Tuesday" which starts in June!
I am also teaming up with some great shops for some giveaways to help celebrate Ellie's birthday
(hint: freshly picked)
so stay tuned for those!!!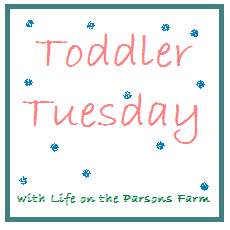 Thanks to Darci, Natasha, and April for hosting this fun linkup.
Now go get your link on!
Ashley