another Friday another Five. here goes!
;;;ONE;;;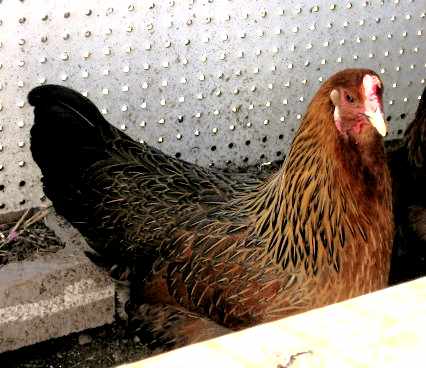 via
Our chickens are no longer on strike - well kinda. We have gotten a few eggs out of them in the past couple of weeks, so now I don't have to buy eggs anymore. They are getting kinda old (3 years) so we are thinking about getting six more to add to our flock. This time around I am going to get 3 Araucana's and 3 Barred Rocks. The Araucana's a.k.a. Easter Egg Chickens lay the green and blue colored egg shells. Then the Barred Rock are the black and white speckled ones that are pretty good layers.
;;;TWO;;;
I had two migraines this week (that hasn't happened in a while). They are the complete pits. I have special migraine medication but that was just NOT working on Wednesday. I have a pretty high pain tolerance, but not for Migraines. I was so uncomfortable on Wed, I took my migraine meds, 3 excedrin migraine pills, 2 ibuprofen, 2 hot showers, a heat pack on my shoulder/neck area, a 2.5 hour "nap", had the hubs give me a massage, and used my awesome headache stuff from Saje. But still could not shake the darn migraine. It finally went away sometime during my nighttime sleep. But these things are worse now that we have Ellie, because I miss out on time with her!
;;;THREE;;;
via
In addition to my migraines this week I have just been in a total funk. I don't know if its just coming off the high of the holidays or what. I am calling it the "Back to Work Blues". The semester is close to ending at school and I am looking forward to the change up a new semester brings! I think I just had such a great time being home with Ellie that I just want to stay home with her all the time.
;;;FOUR;;;
I ordered a rug from Home Depot off of Ebates and when it arrived it was the wrong color (hard to tell online sometimes) so I took it back to the store and they let me re-order it through Ebates in the store!! How awesome is that? I wasn't able to get the $10 off coupon I used originally because it was "expired" but still they let me get cash back on my purchase while in store!
Do you know what Ebates is? You sign up for free (and get a $10 gift card to your store of choice) and then shop through them at all your fave stores online and get a % of cash back! Each store has a different amount they offer - like Macys is offering 6% cash back right now! If you sign up through this link HERE you will also give me $15 for referring you! So do it and help a sister out!
;;;FIVE;;;
via
Its Friday and I am so happy to have some relax time this weekend! Its a 3 day weekend which is always awesome! Monday we are honoring MLK and his work towards civil rights! How awesome it would have been to be a part of that movement! Thank you MLK for all you did for our country!